Atla: Journey of Hope
An immersive winter ritual play - a story of mythic revelation as given to a sixteen-year-old teenage storyteller - exploring myth, magic, and more.
Explore the secrets of an unknown goddess, Adalastiea. Encounter unique characters, experience the magic, and embrace the renewal of the winter solstice.
A youthful celebration of wonder and hope in honor of the birthday of Stalarie Atlyn Gray, the play will be co-written and directed by temple priestess Zebrine Iris Gray.
The Temple of Dionysus will offer this full-scale theatrical production as sacred Theatre. All ages are welcome to participate.
December 16th, 3-4:30 pm at the Warwick Public Library, 600 Sandy Lane, Warwick, RI 02889.
Art by Stalarie Atlyn Gray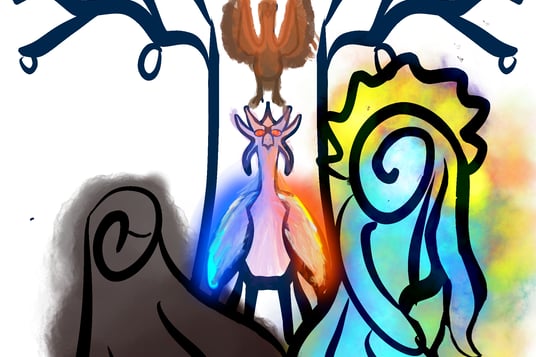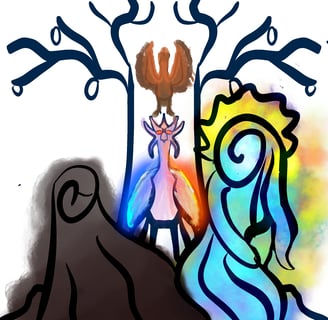 Rehearsal Schedule
We need a broad range of Characters to create the Cast of this beautiful show. It's not too late to get involved! Just send in this Audition Form or show up to a rehearsal any time to join the ensemble.
November 13 - Library (5:30-7 pm)

November 20 - Online Rehearsal (5-7)

November 27 - Library (2:30-7 pm - in the space)

December 4 - Online Rehearsal

December 11 - Library (5:30-7 pm)

December 16 - Library - Rehearsal - 9 am until

December 16 - Performance 3 pm

Rehearsal of a play by the nonprofit Temple of Dionysus. We will produce the play in this space on December 16th. We are rehearsing in person every other week.
In-Person Rehearsals are at Warwick Public Library, 600 Sandy Lane Warwick, RI 02889
Learn more about Atla's Journey
Dionysus, God of Theatre
Our Western concept of theatre began in Athens with festivals of Tragedy, Comedy and Satire. Plays were religious offerings to the God Dionysus and also great dynamic personal experiences for the actors. We seek to understand the mysteries of Dionysus by offering original sacred theatre projects.